BUILDING A BREWERY: UNLOADING AND POSITIONING YOUR BREWERY EQUIPMENT
Every customer ordered the brewing equipment, when they are about to receive the equipment, Everyone stands waiting with anticipation – hugely excited, a bit impatient – and nervous, all at the same time. Because we know that this set brewing equipment that they bought with bank loans or they invested a large portion of their savings.
Then of course,everything has to be taken to its rightful place in your brewery. And if it's not done properly – at best, time is wasted. At worst, people are hurt. We are not able to be present at all the installs for the brewing equipment – especially now with travel restrictions. So we have put together a comprehensive checklist and process outline, to give to our clients.
UNLOADING AND INSTALLING BREWERY EQUIPMENT CHECKLIST
Yes, the brewing equipment is manufactured according to customer's requirement, and they know what the pieces look like, they've been designing them for months – but they've never seen them in the flesh. The general expression says 'Oh wow. This is my baby.'
Unloading day is obviously really exciting, but it can also be really tricky. There's a lot of logistics involved, especially if you've taken on the challenge to do it all yourself. So We put together a list of everything you need to unpack, relocate and install brewing equipment. 
1 x fork trucks with fork extensions
2 x pallet jacks
2 x wrenches
2 x lifting straps rated at at least 3000kg or more
10 x 2 foot wood blocks for blocking up the tanks if needed
1 or 2 x electric drills with HEX and screw set
1 x crowbar
1 x hammer
2 x foam pieces
1xpallet
At least 3 man(one for driving the fork truck, other two person for helping).
IT BEGINS
So you've got your checklist in hand, as well as your brewery design and layout document. (These were developed months ago).
Make sure you have all the right tools ready to go and easily accessible. For equipment rental, people often charge you per hour. Or the truck might be booked in for another job, when it's finished with you. So having everything ready to go and ensuring your team is clear on what's happening will help you avoid extra costs.
UNLOADING BREWING EQUIPMENT FROM THE TRUCK
One of the biggest challenges of the day is getting the huge pieces of brewing equipment from the truck (which is ~1.7 meters up) onto the ground.
You've got a couple of options here. One is to use two fork trucks to slowly pull the brewing equipment out – and lower down.
As the first person is pulling the item out, the other will need to support the back half of it, so that it doesn't slip. 
Another option is to use a side loader. This driver will lift up the entire container off the truck and lower the whole thing onto the ground. This way you can pull brewing equipment out and mitigate the risk of dropping it, as it's already at ground level. 
Below some pictures of our team in action, while working with Galveston Bay Beer Company.
Once the tanks are stood up into their proper position, you can use a standard pallet jack to move them around via the horizontal leg supports which are.
INSTALLING ACCORDING YOUR BREWERY LAYOUT
Once your brewing equipment is off the truck and standing to attention, you want to unload the brewing equipment in a specific order, to avoid getting stuck.
Make sure you assess the size of everything and work out the best way to move it around. Fork trucks is most important – but you may need fork extensions for the wider tanks, like the MLT.
You'll need to think about your brewhouse design and which pieces of equipment will be at the furthest end of the brewery. This way you can move it towards the back with a clear path – and backfill from there. 
In a perfect world, your utilities have been installed beforehand – but this isn't always the case. Either way, it's important to make sure everything matches the layout. There is a reason we have a high level of detail in our drawings. 
The cellar equipment is easier but the brewhouse is obviously all piped together. There are a lot of connections between these vessels so they need to be placed correctly.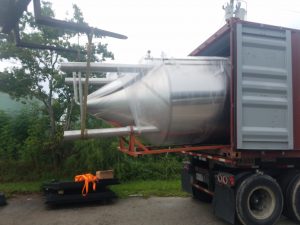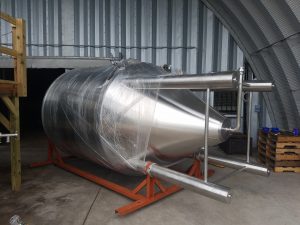 TAKE YOUR TIME
Our first and most important piece of advice is – take your time. Because You've paid a lot of money for this brewing equipment, you don't want to damage it – and you don't want anyone to get hurt. so there's no such thing as 'over communicating'.Double check to ensure everyone is on the same page and check in with your team, in case anyone has questions. 
If you have more advice about how to ensure a smooth unloading/installation of your brewing equipment, please get in touch.
We would love to hear from you!